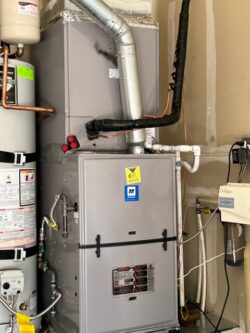 Do You Need the Most Reliable Furnace
Repair Service Albuquerque Has to Offer?
No matter what the issue with your Furnace, the Indoor Comfort Heating & Air Conditioning crew will know what to do.



Call 505-933-2700 to Schedule Your Albuquerque Furnace Repair or Installation Appointment Today!
Furnace Repair Albuquerque
Indoor Comfort Heating & Air Conditioning Is the Best in The Business at Albuquerque Furnace Repair
We've seen it all, so we can get right to the heart of your Furnace problem. Your home will be cozy again before you know it.
Here are a few fun facts about us:
We stick to legal codes and maker's instructions when fixing furnaces.
Each of our guys is certified and trained in Furnace repair.
Our quote is free, no strings attached.
And here's the cherry on top – our work comes with a guarantee!
Why does my Furnace have poor airflow?
Is your furnace struggling to blow warm air? There might be several reasons for that.
Something could be lodged inside the furnace.
There might be a dust build up happening inside
Maybe the fan's acting up – could be the motor, belt, or blades.
Our technicians will come in and fix the source of the problem for you.
Should I be concerned about the furnace making a noise?
Yes, If it's louder than usual, pay attention. Furnaces do make some noise as they heat up and cool down.
Clicking sounds are also bad news. They could mean there's broken stuff inside. If you hear this, get help pronto! A broken furnace is a fire hazard.
Is it normal for one room to be much hotter than the rest?
If this is a new thing, there's likely a problem with your return air vents. They might be blocked or damaged. We can quickly figure out what's going wrong and get it fixed.
Problems Turning Furnace On Or Off
Thermostat acting dead?
Furnace refusing to ignite?
Can't get the Furnace to shut off?
Or does your Furnace trip the circuit breaker?
If any of this sounds familiar, give our qualified team a shout. We're always happy to help.
My Furnace Is Faulty
Now, if your Furnace's faulty, that's serious stuff. Smell something burning or gas? Switch off your Furnace right now and dial our number. Here are some warning signs to watch for:
A burning smell
The scent of gas
No airflow, or it's not as strong as before.
Air coming out cool, not warm.
Book Your Appointment!
At Indoor Comfort Heating & Air Conditioning, our mission is to be the very best, little air conditioning company in the Albuquerque Valley. Throughout Albuquerque, Rio Rancho and the Greater Albuquerque Metro-Area, our team offers its services. We are pleased to offer our services to people in Albuquerque, Placitas, Corrales, Rio Rancho and the Greater Albuquerque Metro-Area, and much of the surrounding areas.
FURNACE CONTRACTOR ALBUQUERQUE
Furnace Contractor in Albuquerque, NM, and the Surrounding Areas
Top Rated Albuquerque Furnace Contractor
Furnace Maintenance Albuquerque
Here at Indoor Comfort Heating & Air Conditioning, we're all about keeping Albuquerque and nearby areas comfy. We get it – temps here can plunge fast in winter and zoom up in summer. Imagine your furnace or air conditioner quitting on a freezing winter night or a sizzling summer day. Brrr! Or yikes! But relax, Indoor Comfort's got your back!
Need a repair? Or maybe it's time for a new unit? Either way, we're here for you. Keeping your home or business cozy is a big investment, and we'll help protect it. Plus, a little secret – regular maintenance can save you from major headaches. Think about it. No sudden breakdowns, no frequent costly repairs. It's all about prevention to keep things running smooth.
Don't wait for an emergency. Reach out to Indoor Comfort Heating & Air Conditioning for a seasoned pro to check things out. We pride ourselves on our quick response time. We'll perform a furnace or AC tune-up to make sure they're always ready when you need them.
So what's in a tune-up? Let's break it down:
We measure the airflow.
We check that all the moving parts are happy.
We test the register temperatures. And the best part? Our expert techs will answer any questions you have. We'll make sure you know all about your unit.
We're always here for you in Albuquerque and beyond. If you need help with your Furnace or air conditioning, give Indoor Comfort Heating & Air Conditioning a call!
Benefits of Regular Albuquerque Furnace Maintenance
Why is regular furnace maintenance in Albuquerque so awesome?
Spotting trouble early – Our team of pros can find any issue, big or small. Catching problems early saves you big bucks on repairs later.
Longer life for your AC/furnace – Like any machine, regular check-ups mean a longer lifespan.
Save on energy bills – A well-tuned furnace runs super efficiently. That means it uses less energy.
No surprise breakdowns – Nobody likes unexpected hiccups, right? Regular maintenance keeps your home or business humming along.
Relief Furnace Maintenance
You might be a longtime resident or a newbie in New Mexico. The first chilly desert night rolls in. You want your HVAC system to work perfectly, right? The best time to get it checked is before any problems pop up. In this dry heat, you need a good HVAC system day and night.
Warm Days and Cool Nights
Days in Albuquerque are toasty. Nights can be frosty, especially in winter. Albuquerque winds and its dry climate add to the chill. U.S. Climate Data shows that seven months out of the year, evening temps here can dip below 30 degrees. But the days? They can sizzle up to 106 degrees! That's why a working HVAC system is so crucial. It keeps you and your Albuquerque or Rio Rancho family comfy, no matter what.
And if you're new to Albuquerque, the weather might catch you off guard. Many newcomers underestimate how hot our days can get and how chilly our nights are. But don't worry. Regular Albuquerque HVAC maintenance can keep your home cozy, come wind, heat, or chill.
Professional Furnace Care
At Indoor Comfort Heating & Air Conditioning, our squad of expert techs is ready to tackle any Furnace system as part of a top-notch HVAC maintenance plan. Let's explore some common systems:
Forced air furnace – It's a fan favorite for keeping you cozy on those chilly nights. It doesn't matter if it's powered by gas, propane, electricity, or something else, it's the go-to option for most folks.
Heat pump – Fancy an economical two-in-one deal? The heat pump provides Furnace and air conditioning all year round. Talk about handy!
Boiler – Not the usual pick around here, but some homes and businesses still love their steam radiators and hydronic baseboard systems.
No matter your Furnace style, our crew can keep it running like a dream. We'll tune it up and even boost its performance. Our help comes in super handy, especially since furnaces can get a bit rusty from infrequent use.
Now, let me tell you about a typical visit from us for a Furnace system tune-up:
We'll adjust the thermostat.
Inspect, clean, or replace the air filters.
Measure how efficiently combustion's happening.
Check that all electrical connections are snug and safe.
Make sure everything moving is well-oiled and smooth.
We'll clean parts like the flue pipe, heat exchanger, and combustion chamber, to name a few.
Reach out to us at Indoor Comfort Heating & Air Conditioning, and you'll feel the peace of knowing our experts are keeping your home's HVAC system running silky smooth. We can vouch for your system's reliability and efficiency. So why wait? Pick up the phone and call us today! We're eager to chat about how we can help keep your home temps just right.
Furnace Maintenance in Albuquerque
The best way to keep your Furnace system humming is preventive maintenance. It allows our team to spot small issues before they morph into big, costly problems.
When you give Indoor Comfort Heating & Air Conditioning a ring, you get to pick. Want a one-time maintenance visit? Or prefer signing up for our regular maintenance plan? We're flexible and will work around your schedule. We'll send over a trusted expert technician to inspect your Furnace or cooling system. If any repairs are needed, our tech will roll up their sleeves and get the job done that day.
Just some of the perks we offer:
Top-notch AC repair
Top-rated Furnace repair
Affordable AC repair in Albuquerque, NM
Best commercial HVAC in Albuquerque, NM
Curious to learn more about our Furnace Repair Services? Click here! We're excited to help keep your home comfy all year round.
Furnace Installation Albuquerque
Are You Looking for Professional Furnace Installation in Albuquerque?
In need of professional Furnace installation in Albuquerque? Look no further! Indoor Comfort Heating & Air Conditioning is ready to jump into action for you.
We're The Best Choice for Expert Furnace Installation
Here's the deal. Albuquerque winters can be downright chilly. But guess what? With our ace crew, your home will be a cozy haven all winter long. Now, why choose us for your Furnace installation?
Our techs have their licenses, so you're getting nothing less than pro-level work.
We stand by our installations with a full guarantee.
All our installations meet the standards set by manufacturers.
Need a quote? We'll give you a free one, no strings attached.
How should I choose a new Furnace system?
Our experience spans decades, and we're happy to lend our expertise to you. We'll weigh in on several factors to help you choose what's best based on several factors:
Type of furnace or Furnace system
Distribution system (air or water)
Energy efficiency
Your budget
How long does it take to install a Furnace system?
Well, that depends on your Furnace system type and your home's size. On average, though, it's around 4-8 hours. Once we're done, we'll leave your place clean and dust-free. You can kick back and revel in your toasty home right away.
With regular maintenance, a gas furnace should serve you well for 15-20 years. Even better, Electric furnaces can keep going for up to 30 years.
What Do We Need to Plan for Your New Furnace Install?
We'll sit down with you and tackle these topics:
Picking the perfect system
Sizing the system for your home
Figuring out where the new system parts should go
Balancing your budget requirements
Ensuring energy efficiency
Assessing air quality in your home
Yes, Albuquerque might be a desert, but it can get pretty chilly! A reliable furnace is essential to keep your family warm and comfy in the winter months. And if your home furnace is over a decade old, it might be time for a replacement. So why not reach out to Indoor Comfort Heating & Air Conditioning and chat with a trusted technician about your home's Furnace and cooling needs? We've been serving the Albuquerque area with dedication since 2013. We're committed to getting your Furnace or cooling system running smoothly in no time.
BENEFITS OF CHOOSING A FURNACE INSTALLATION WITH INDOOR COMFORT HEATING & AIR CONDITIONING
We promise fair pricing and no overtime charges.
Our technicians are pros.
We're locally operated.
We offer FREE estimates.
There are financing options available.
And our energy-efficient equipment can help you save money.
WE DON'T JUST REPLACE; WE FIND THE SYSTEM THAT IS BEST FOR YOU
Our techs are always respectful of your space. We leave your home as clean as we found it. We're determined to give you the best Albuquerque Furnace repair in a quick, cost-efficient way. We even offer zoned Furnace for added control in your home.
So, are you ready to feel the warmth? Let's get started!