Air Conditioning Service Albuquerque
CALL INDOOR COMFORT HEATING & AIR CONDITIONING 505-933-2700 TO SCHEDULE AIR CONDITIONING SERVICE TODAY!
Expert Air Conditioner Installation Services in Albuquerque: Licensed, Insured, and Dependable
Air Conditioning Companies Near Me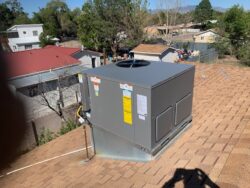 At Indoor Comfort Heating and Air Conditioning, we offer professional, fully licensed, and insured air conditioning installation and repair services across the Albuquerque metro area and Rio Rancho, NM. When you are seeking an air conditioning company in Albuquerque online and you type in, air conditioning companies near me, the company to turn to for service is Indoor Comfort Heating and Air Conditioning. Our technicians, proficient in all aspects of air conditioning and heating repair and maintenance, strive to keep your home or office comfortable all year round. We understand the importance of a reliable air conditioning unit, especially during the blistering Albuquerque summer months.
Air Conditioning Service Albuquerque
Indoor Comfort Heating and Air Conditioning is your trusted partner for professional air conditioning installation. When you seach online for air conditioning service Albuquerque, we are the come to turn to for top of the line air condition service! We often encounter homeowners attempting to install new units independently or hiring inexperienced individuals, resulting in compromised performance and prolonged installation times. Don't risk your comfort by entrusting your air conditioning installation to amateurs. Our seasoned technicians deliver precise and efficient installations, ensuring your unit operates at maximum performance from day one.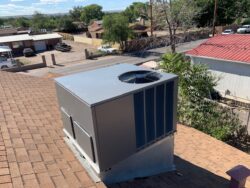 Comprehensive Albuquerque Installation Services for All Air Conditioners
Our technicians at Indoor Comfort Heating and Air Conditioning are adept at handling all makes, models, and sizes of air conditioning units. Whether you need a compact unit for a small home or multiple units for a larger property, our professional and fully licensed technicians have the expertise to ensure a seamless installation. We take pride in delivering exceptional customer service, treating every client like family, and ensuring your air conditioning unit provides optimal comfort for you and your loved ones.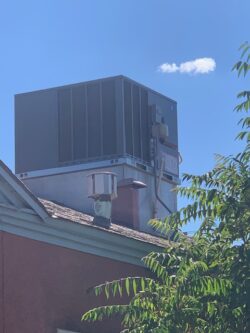 Up-to-Date Albuquerque Professional Air Conditioner Installation
At Indoor Comfort Heating and Air Conditioning, our technicians receive ongoing training on the latest air conditioning units. Regardless of your home's specific needs, we're equipped to install any type of air conditioning unit, guaranteeing comfort for you and your family. We're proud to be recognized as a leading air conditioning service provider in Albuquerque, committed to delivering unmatched customer service. Contact Indoor Comfort Heating and Air Conditioning today for a professional, hassle-free air conditioning unit installation.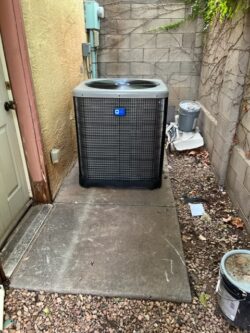 Emergency AC Repair Albuquerque
Surviving Albuquerque Summers: Indoor Comfort Heating and Air Conditioning – Your Trusted Emergency Air Conditioning Repair Service
When the scorching Albuquerque summers hit, even long-time residents might fantasize about relocating to Alaska. These hot, dry spells can be unbearable without a functioning air conditioning unit in your home or business. Indeed, having your AC unit fail in the midst of summer can feel like a literal hot seat. But fret not, Indoor Comfort Heating and Air Conditioning is here to help.
Residential Albuquerque Emergency Air Conditioning Repair Services You Can Rely On
Don't let the summer heat get to you. Reach out to Indoor Comfort Heating and Air Conditioning for swift, efficient emergency repair services. Our expertly trained professionals are fully licensed and insured, ready to restore your AC unit to peak performance with top-quality parts. With our commitment to ongoing training, we can skillfully repair most makes and models, ensuring your home returns to being the cool sanctuary it should be.
Commercial Emergency Air Conditioning Repair: Keeping Your Business Cool
For business owners, a malfunctioning air conditioner can mean more than discomfort; it can lead to lost customers. Don't let a broken AC drive your clientele away. Rely on our professionals at Indoor Comfort Heating and Air Conditioning to deliver swift emergency repair services, ensuring your business remains a cool retreat even on the hottest of days.
Comprehensive Air Conditioning Repair Services in Albuquerque
Indoor Comfort Heating and Air Conditioning is your go-to service for all air conditioning repair needs in Albuquerque. Our specialists can handle repairs for all brands, makes, and models of air conditioning units and systems. From heat pump repair to ductless mini split repair, zone control air conditioning systems, or thermostat issues, we've got you covered.
Recognizing the Warning Signs of Air Conditioning Problems
Often, people overlook the early warning signs that their air conditioning system needs a repair. If your system is making strange noises, not providing enough cool air, or has shut down altogether, it's time to call Indoor Comfort Heating and Air Conditioning. Our trained and experienced technicians can swiftly diagnose the problem and provide the most cost-effective solution, whether it's a part replacement, a simple tune-up adjustment, or a more complex repair.
Don't let the Albuquerque heat get you down. Stay cool and comfortable with Indoor Comfort Heating and Air Conditioning. Call us today for all your air conditioning repair needs.
Your Trusted AC Company in Albuquerque
Indoor Comfort Heating & Air Conditioning is an AC company that has been serving the residents of Albuquerque, NM, with over 25 years of experience. We're a family-owned and -operated AC contractor that's committed to excellence. We want our customers to know that a good job has been done. When the desert temperatures in Albuquerque hit the triple digits, we make sure our customers stay safe. Our technicians refuse to cut corners with anything they do. We primarily work with products from Rheem and Mainline. Our technicians have the training to service AC units from Mitsubishi and all other brands. We work with the company motto of, "We're not comfortable until you are!"
Why choose us as your Albuquerque AC company?
Family owned and operated
Angie's List Super Service Award
Top Rated on HomeAdvisor
Free estimates
If your air conditioner is acting strangely, we can determine the cause of the problem. Our highly skilled technicians are the best to call for AC repairs in Albuquerque!